Understanding Store Insights
---
Store Insights is currently available to participating Beta merchants.
---
Store Insights let you compare key information about Shoppers and Products over two given periods of time. Harness the power of data when running your store by diving into these analytics.
Navigate to the Merchant Dashboard.
Select Store Insights.
Select a time period to begin generating data.
Definitions
Product Insights
| Value | Definition |
| --- | --- |
| Product Page Views | The number of product page views in the given time period. |
| Live Products | The number of products visible in a store in a given time period. |
| Active Products | Count of parent products that have had a shopper interaction (i.e., page visit, checkout start, or purchase). |
| Purchased Products | The number of individual products purchased in a given time period. |
| Product Page Views | The number of product page views in a given time period, as compared to the previous time period e.g., the last 7 days and the 7 days prior to that. |
| Browsing Sessions | The number of browsing sessions in a given time period, as compared to the previous time period e.g., the last 7 days and the 7 days prior to that. Note single users can perform multiple browsing sessions. |
Purchase Funnel
| Value | Definition |
| --- | --- |
| Page Visits | The number of page views in a given period. |
| Checkout Starts | The number of start checkout events in a given time period. Dropoff percentage is compared to the Page Visits value. |
| Purchases | The number of purchase completion events. Dropoff percentage is compared to the Start Checkout value. |
Product Performance
| Value | Definition |
| --- | --- |
| Top Performing | The highest performing products in the store. |
| Most Seen | The most viewed products in the store. |
| Products to Improve | The lowest performing products in the store. |
| Least Seen | The least viewed products in the store. |
| Non-Sellers | Products in the store that have not had a sale. |
Individual Products
| Value | Definition |
| --- | --- |
| Viewed With | Products shoppers have viewed when purchasing this item. |
| Bought With | Products shoppers have purchased along with this item. |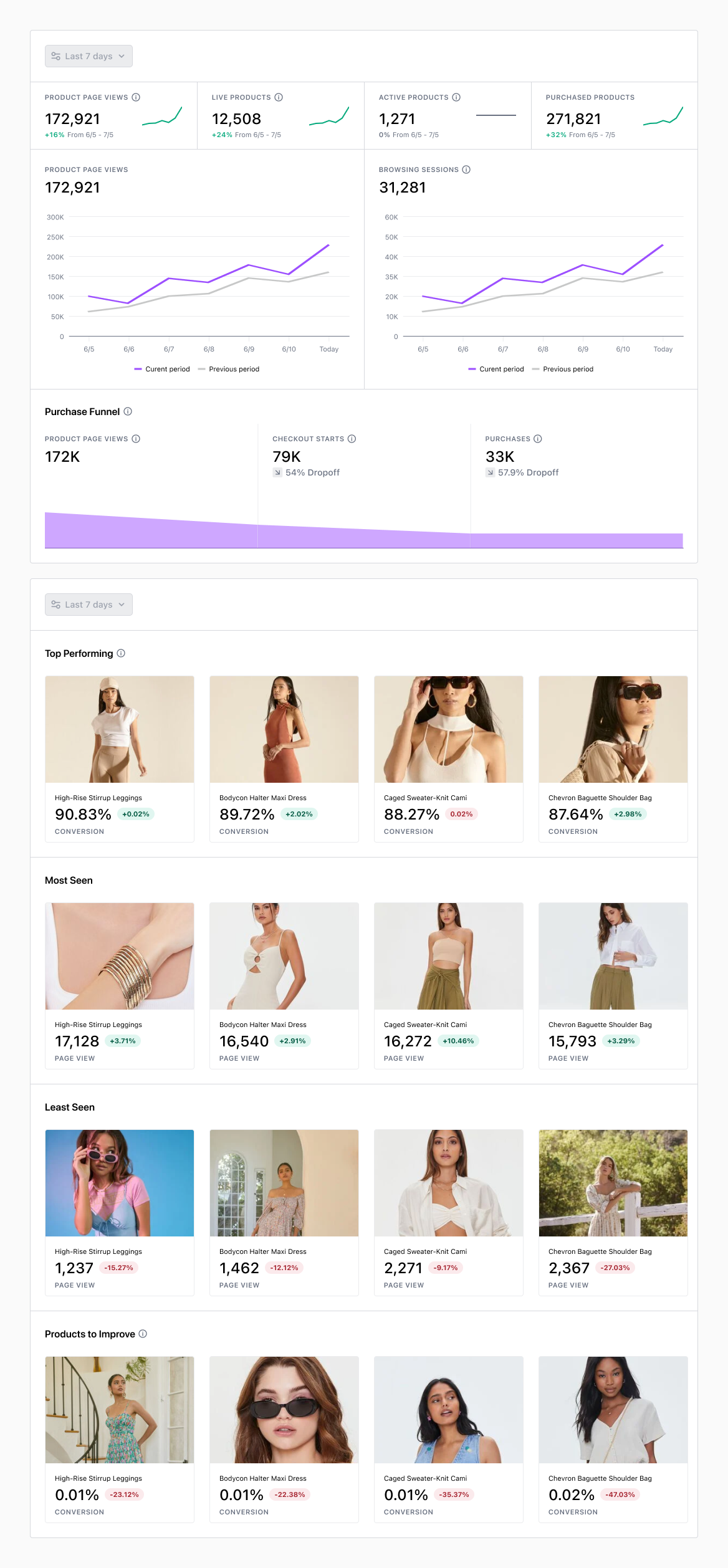 Shopper Insights
| Value | Definition |
| --- | --- |
| Total Shoppers | The total number of shoppers in a given time period. |
| Returning Shoppers | The number of repeat shoppers over a given time period. |
| Average Order Value | The average value of an order over the given time period. |
| Average Purchase Frequency | The average number of transactions per shopper in a given time period. |
| Bolt Shoppers | The number of Bolt Shoppers making purchases in the store over a given time period, as compared to the previous time period e.g., the last 7 days and the 7 days prior to that. |
| Age Distribution | Shows the distribution of shoppers in the store among different age groups. |
| Gender Distribution | Shows the distribution of shoppers in the store across gender. |
| Income | Shows the distribution of shoppers in the store across income demographics. |