Customize your Shopper Assistant.
Configure Visual Settings
Visual settings enable you to customize the look and feel of your Shopper Assistant.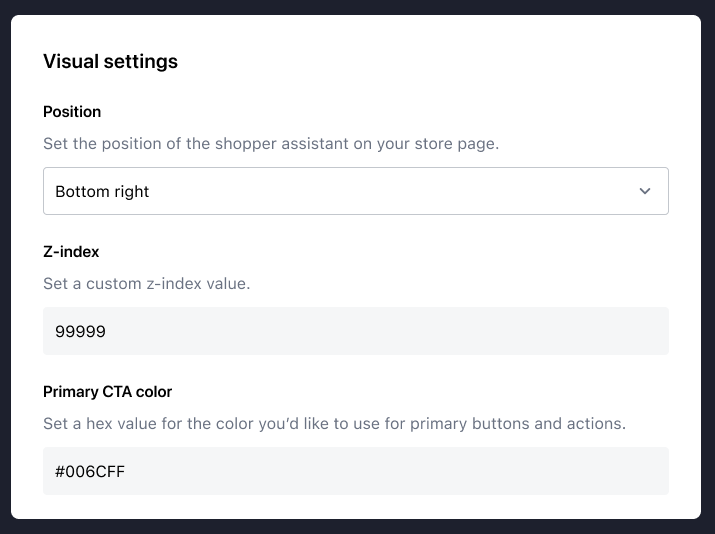 Position: Select the location for the Shopper Assistant widget to display.
Z-Index: Enter a value to change the stack order of this element. Bolt recommends setting the Z-Index to a large value such as 99999 so that the Shopper Assistant is never covered by another element.
Primary CTA Color: To customize the color of primary buttons and actions, enter a hex value.
Click Save.
Enable Shopper Incentives
Optionally, offer shoppers a discount to incentivize them to use the Shopper Assistant. This benefits your business because the Shopper Assistant turns guest shoppers into logged-in shoppers and provides greater insights on shopper preferences and behavior.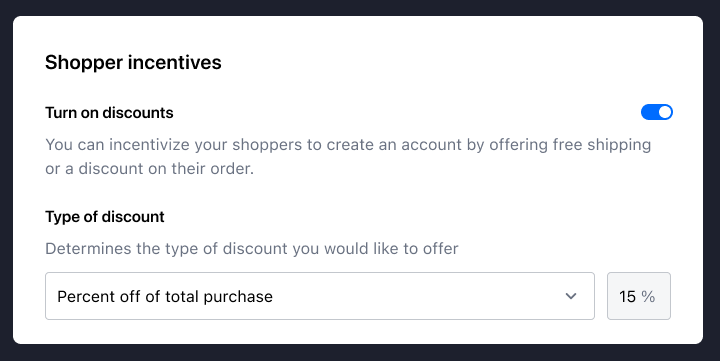 Toggle Turn on discounts to On .
Type of Discount: Select the discount that you'd like to offer to shoppers:

Percent off total purchase: Select a percentage.
Free shipping

Not available on Adobe Commerce.

Click Save.
Set Up Product Add-ons & Recommendations
It is possible to incorporate logic to add dynamic product recommendations to checkout. Refer to our Add-ons & Upsells options.