Install the Shopper Assistant.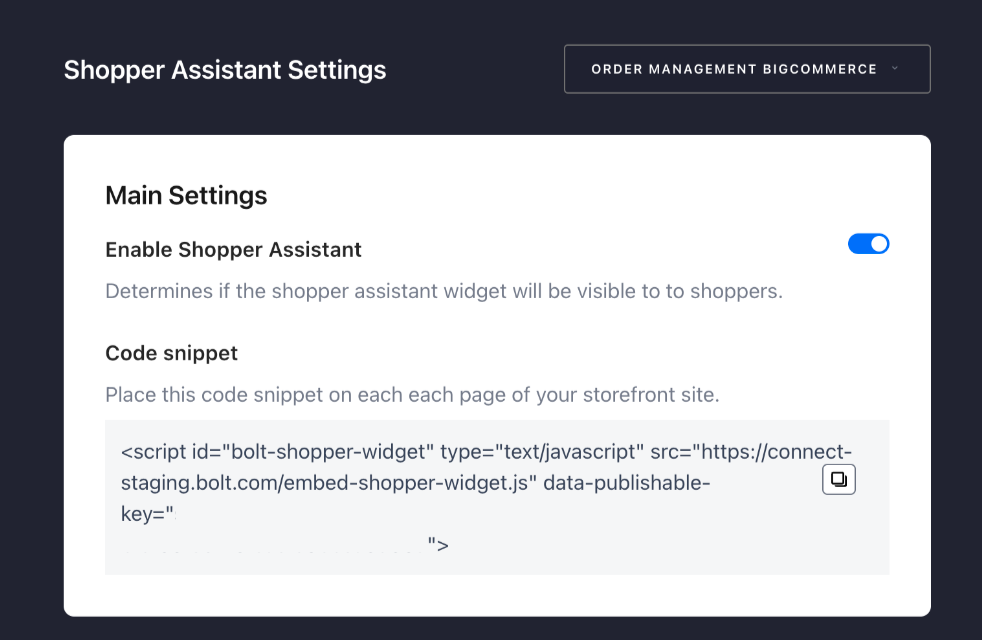 Before You Start
First, contact Bolt's Support Team and request that they enable the Shopper Assistant for your storefront.
Enable the Shopper Assistant
Log into the Merchant Dashboard.
Navigate to Settings > Shopper Assistant.
From Shopper Assistant Settings, use the division selector to choose a division.
Toggle Enable Shopper Assistant to On.
Click Save.
Add the Shopper Assistant to Your Storefront (BigCommerce Merchants Only)
The Shopper Assistant is enabled through a simple code snippet, uniquely generated and provided to you via the Merchant Dashboard. Add it to a common storefront component (like the footer component) so that it appears across all pages of your storefront.
NOTE
If you need help figuring out where to place the code snippet, reach out to your Customer Success Manager (CSM).
Copy the script in Code snippet.
Paste the snippet into a common storefront page. For example, you may choose to place it in templates/components/common/footer.html.