Self-Service Disputes Guide
Simplify your dispute response workflow with Self-Service Disputes.
When a dispute event occurs, Bolt will send an email notification letting you know that a dispute has been filed and that action is required. You can manage and represent these chargebacks by submitting evidence directly in the Merchant Dashboard.
Availability
Self-Service Disputes is available to select merchants. Contact your Customer Success Manager to discuss whether this feature is right for your business needs.
Before You Start
Review our Overview of Chargebacks & Disputes for a reminder of terminology and what to expect from the representment process.
Find a New Dispute
From a Transaction
Log into the Bolt Merchant Dashboard.
Navigate to Transactions.
Click a transaction from the table.
If there is an associated dispute, the Timeline section displays information about the chargeback. New disputes show a status of Needs Response.
Click Resolve dispute.



From the Disputes List
Log into the Bolt Merchant Dashboard.
Navigate to Transactions > Disputes.
The table displays information about all chargebacks. New disputes show a status of Needs Response.
Click into a dispute.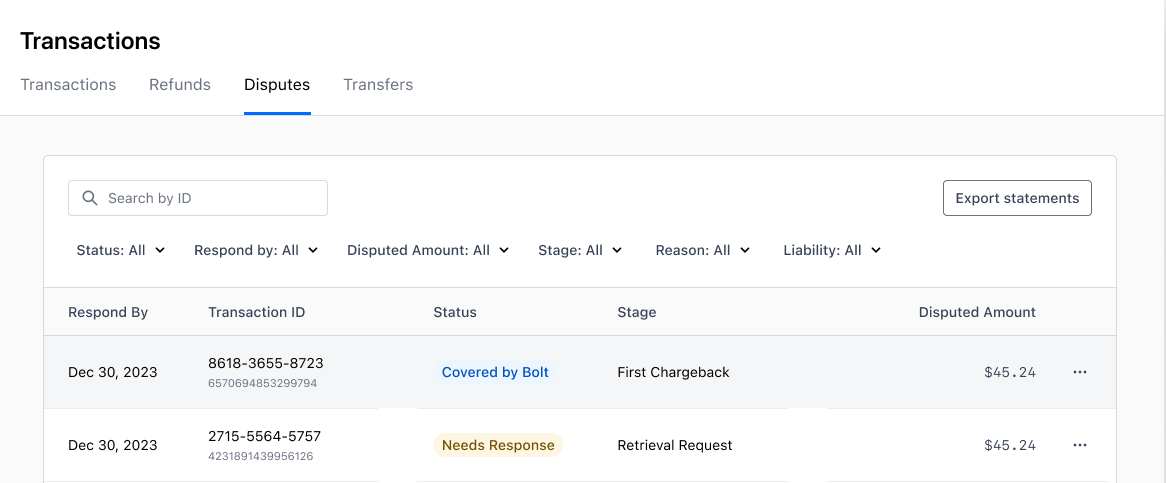 Resolve Dispute
Click into a dispute to review the information and decide how to respond. Your options depend on the dispute stage.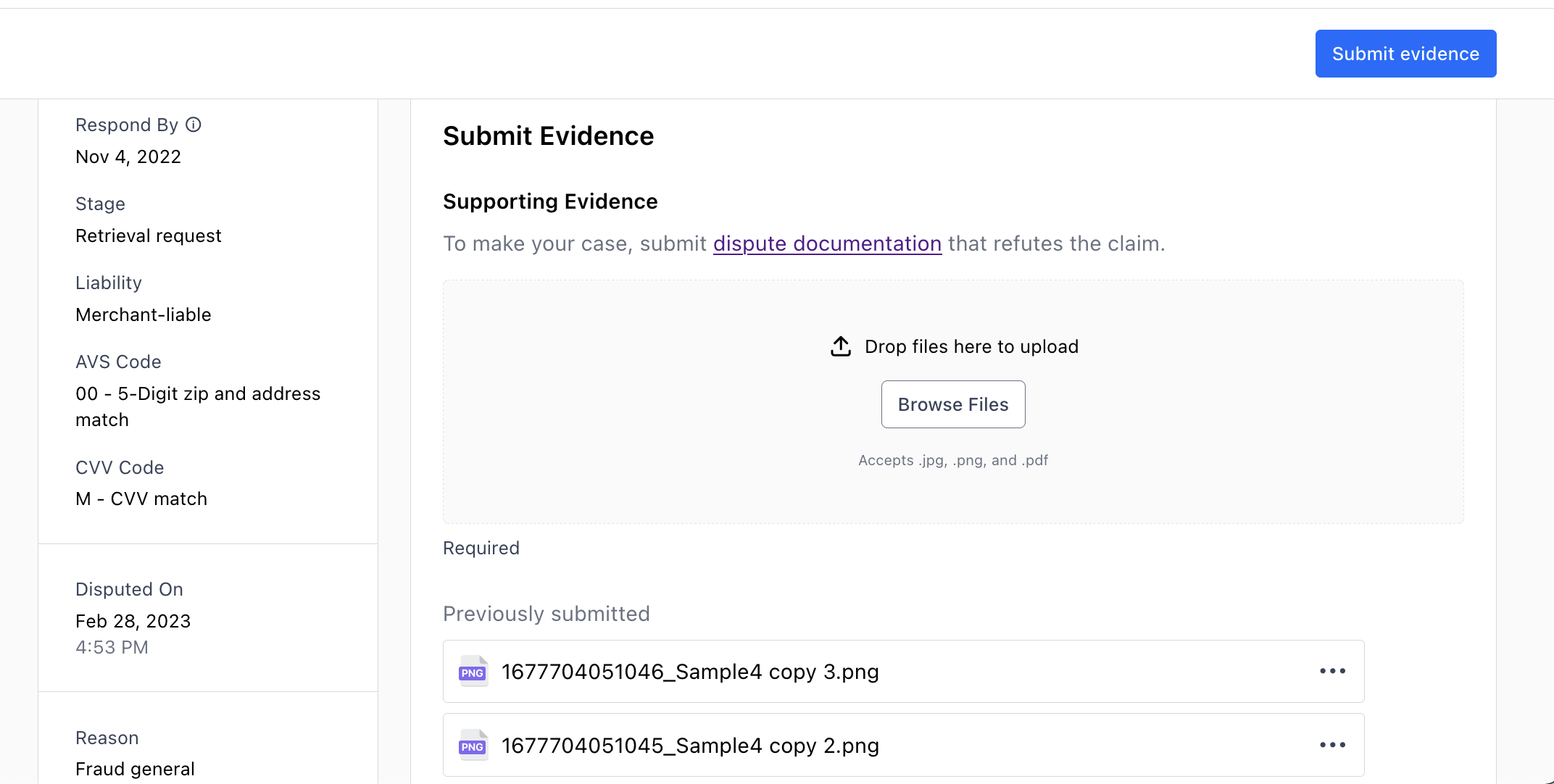 Accept a Dispute
Depending on the stage and status, you may see an option to Accept dispute. If so, you can choose to skip representment and directly refund the customer.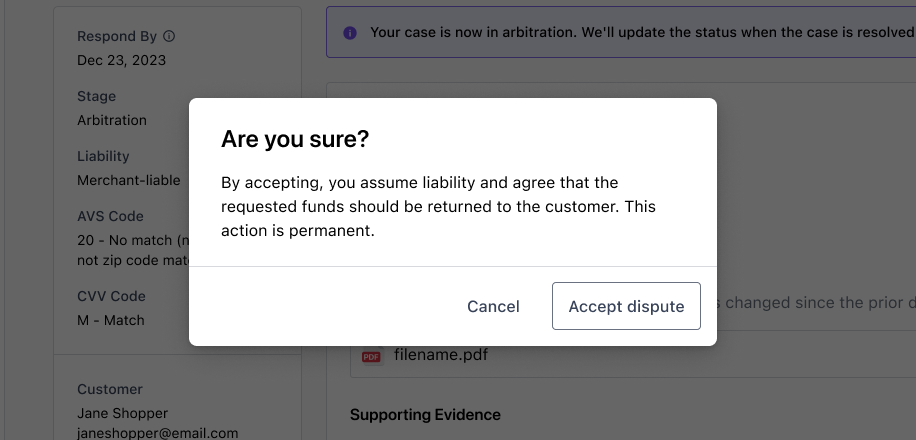 In the Disputes section, click Accept dispute.
A confirmation modal appears. Click Accept dispute.
The dispute is closed and any funds related to the dispute are returned to the customer.
The status shows as Accepted.
Dispute a Chargeback
Take this action if you disagree with the customer's reason for initiating the chargeback. You'll need to provide documentation to explain the charge and why it was legitimate.
WARNING
Pay attention to the date in Respond By, which is set by the card network. To qualify for dispute representment, you must submit evidence on or before this date.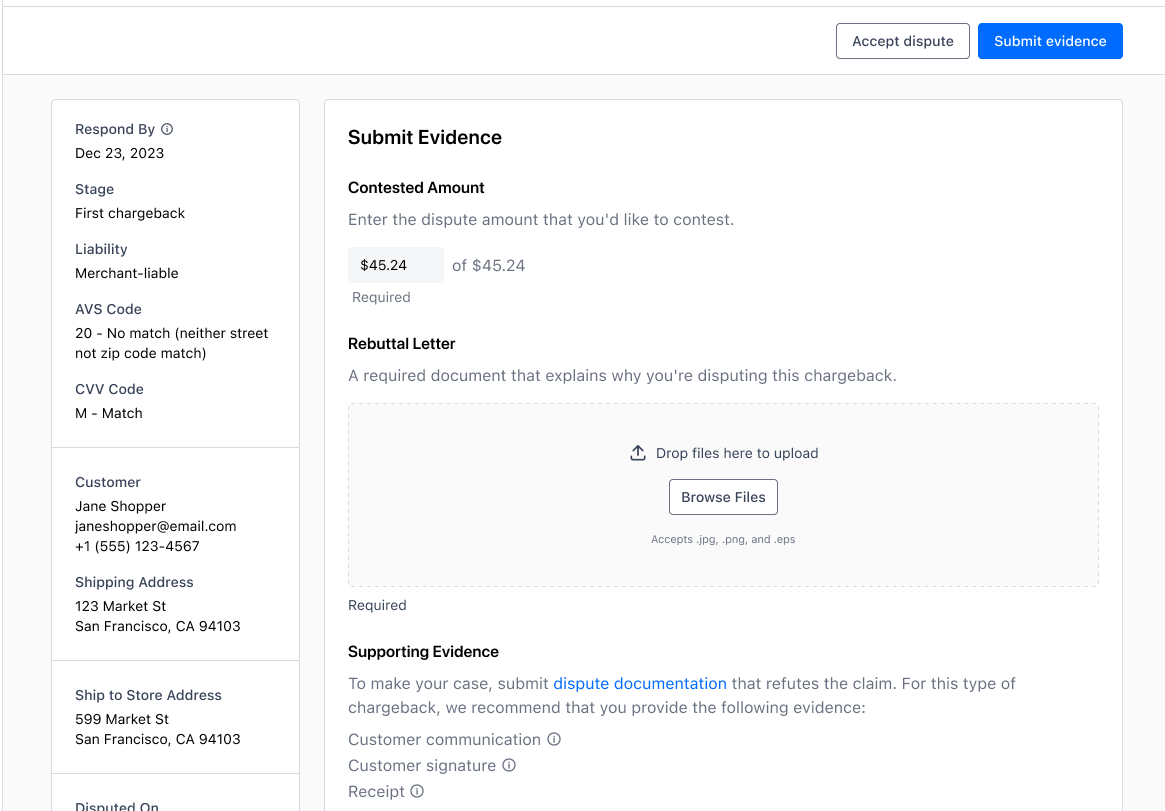 In Contested Amount, enter the amount of the dispute that you'd like to contest. By default, it is the total amount that the customer disputed.
If you see a Rebuttal Letter section, select a file from your device. This is the cover letter for your chargeback representment package, summarizing the case and the evidence that supports it.
In Supporting Evidence, select the documentation files from your device appropriate for this chargeback's reason code.
When you're finished, click Submit evidence.
The dispute status changes to In Review.
TIP
Review the evidence you uploaded carefully. After you submit, you will not be able to modify or withdraw these files.
File Requirements
File names must include the extension, which must match the file type. The following file types are supported:
Next Steps
Dispute Stages
1. Retrieval Request
You may receive a retrieval request for a transaction, which sometimes precedes a chargeback. This is the customer requesting more information on a transaction prior to disputing it.
Provide documentation to explain what the charge is and why it was legitimate. In this stage, you'll only see a file upload section for Supporting Evidence.
We recommend responding to all retrieval requests as it can reduce the number of chargebacks filed.
2. First Chargeback
The first stage for most disputes. A cardholder contacts their issuing bank and formally requests to file a dispute. For a full list of dispute reasons, refer to Chargeback Reason Codes.
You have two options:
3. Pre-arbitration & Arbitration
If the chargeback goes into an advanced dispute stage such as pre-arbitration or arbitration, the dispute page now includes specific feedback on what information you need to provide if you want to continue disputing.
You have two options:

Money Movement
| Dispute event | Money movement |
| --- | --- |
| First chargeback | Debited for the chargeback amount |
| Accept dispute | None |
| No evidence submitted | None |
| Dispute lost | None |
| Dispute won | Credited the contested amount |
Get Help