Say goodbye to passwords — Bolt Accounts use SMS and email authorization codes for a quick login.
During checkout, you have the option to check out as either a Guest or through a Bolt account.
If you already have a Shopper Account, you can authenticate using a confirmation code sent either via SMS (text message) or via email. Both options will use the email address or phone number given during account creation.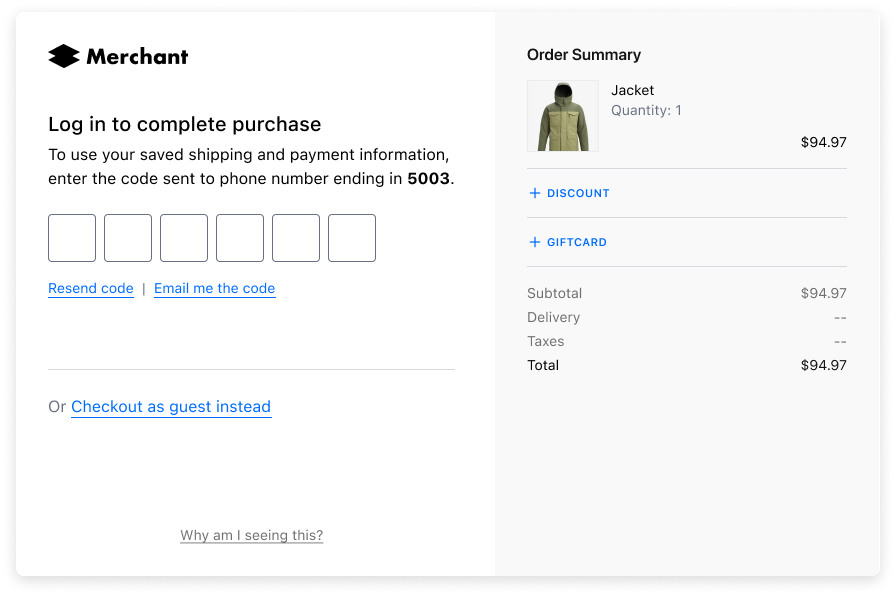 How to Log in to a Merchant-Specific Store Account
Some merchants use Bolt's SSO Commerce authentication feature, which allows you, the shopper, to use Bolt Account credentials to access their store account.
Navigate to the store's website.
Select the Log in button.
Authenticate via email address.

Input your email address. A One-Time Password (OTP) is sent to your email address to confirm your identity.
If you see the Google or Apple social authentication login buttons, you can click the one that applies to you and authenticate that way. Learn more about social authentication here.

Select Continue.
Enter the code sent to your email.
You are now logged into your merchant-specific store account.