Update your shipping address or add new ones for your Bolt Account.
You can update your address directly from any Bolt Checkout! You can also change your preferred address, as well as add, remove, or select a different shipping address than the one shown in a Bolt Checkout by default.
Update
Navigate to Checkout on any participating merchant's site.
Log in to Bolt using your email address.
Select Edit in the Shipping block.
Update your shipping address.
Select Confirm shipping to save.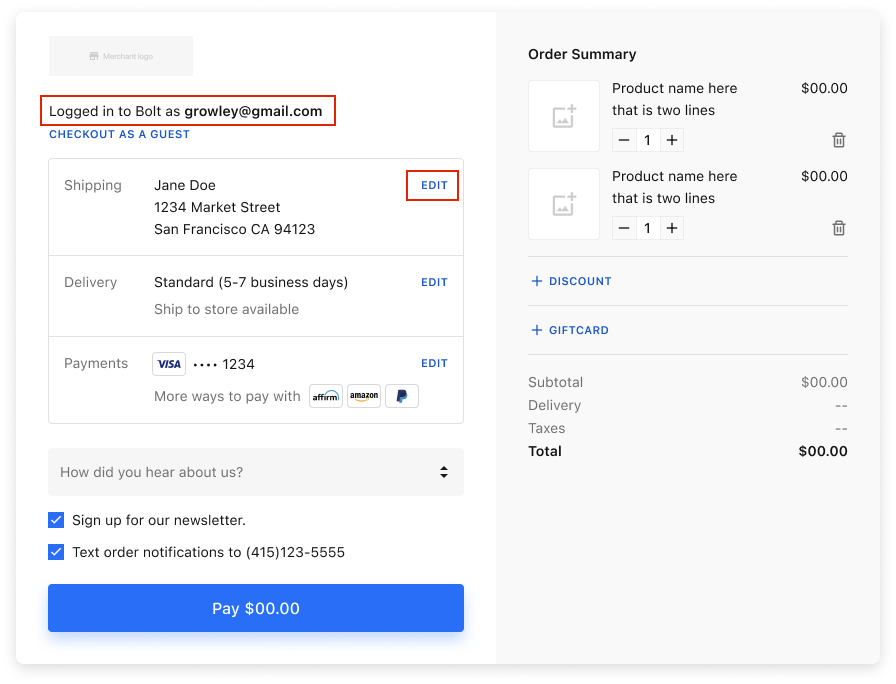 Set as Preferred
Your preferred (default) shipping address is marked with a star.
Locate the shipping address listed in your addresses.
Select Select as Preferred.
Add New
Select + NEW ADDRESS.
Complete the shipping address details.
Select Submit new address.
INFO
Bolt notifies you via email whenever a new address is added to your account.
Remove
From within the shipping address editing area, select Delete.
Select Yes to confirm.
Ship to Military Address
Select + Add New Address.
Complete the address details according to the following:

• Address Line 1: Enter unit and box numbers.
• Address Line 2: If the address includes a Forward Operating Base (FOB), enter it here.
• City: Enter one of the following:

• Army Post Office: APO
• Fleet Post Office: FPO
• Diplomatic Post Office: DPO

• State: Enter one of the following:

• Armed Forced Americas: AA
• Armed Forces Europe: AE
• Armed Forced Pacific: AP

• Zip Code: Enter the zip code.
• Country: Enter United States.
Example military address: