Manage payment methods
Shoppers can manage their payment methods from the Bolt Checkout Modal, found on any participating merchant's storefront.
How to Manage Your Payment Methods
Navigate to Checkout on any participating merchant's site.
Log in to Bolt using your email address.
Select Edit in the Payments block.
Update your payment method information.
Select Confirm method to save.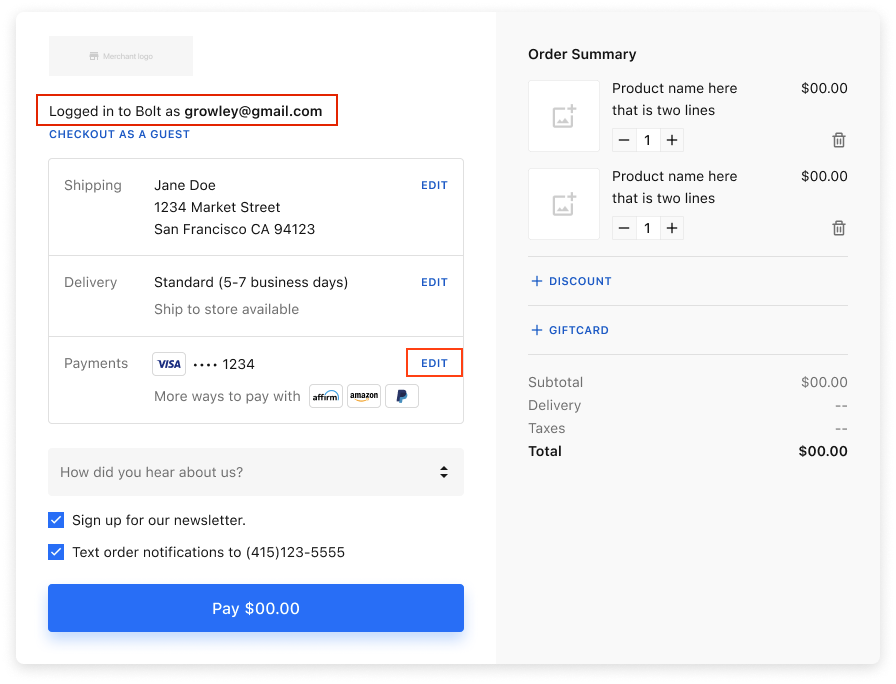 Add New Card
From within the payment method editing area, select + NEW CARD.
Fill out the card info.
Select Submit new method.
Delete a Card
From within the payment method editing area, select Delete. You are then prompted to confirm your request.
Select Yes to confirm.
Set As Preferred Card
The preferred (default) payment method is marked with a star.
Locate the card listed in your payment methods.
Select Select as Preferred.
The selected card is now your preferred payment method and will be used as the default method for future transactions.
Add Alternative Payment Methods
You can add your favorite alternative payment methods to your Bolt Account for a fast and easy One-Click Checkout experience.
Paypal
From the payment step, select the PayPal row.
Select the PayPal button to open a secure log-in tab.
Log in to your PayPal account.
Select a payment method associated to your PayPal account or add a new one.
Select Agree & Pay.
At this point, PayPal is added to your account and the order is sent for processing.