About Product Subscriptions
When brands offer subscriptions to physical or digital products, you can sign up for a subscription to receive these products periodically.
Some brands might offer an exclusive loyalty discount on the product or on shipping when you sign up for a subscription!
How It Works
You'll get to pick an order frequency when you add the subscription to your cart.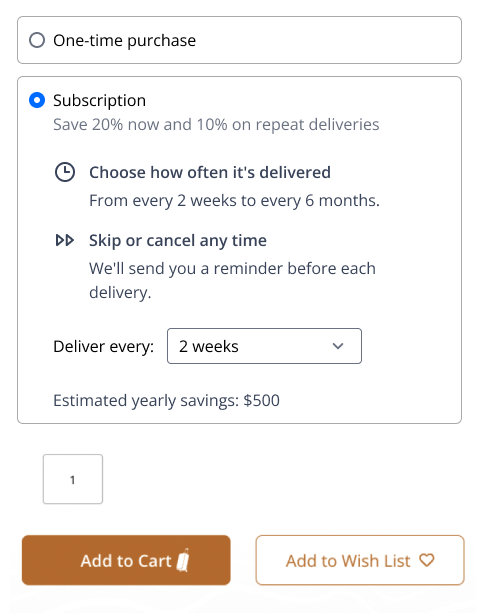 When an order ships, we'll automatically bill your saved payment method.
Update Payment Method
You can update the payment method you use for subscriptions from your account on the merchant's site.
Go to the merchant's site and log into your account.
Navigate to Subscription Management, or the area in your account that enables you to manage your subscription preferences.
Click Update Payment Method, or the button that enables you to change how you pay.
If prompted, enter the email address or phone number associated with your Bolt account, and complete verification with the one-time passcode.

• If your Bolt account is already linked to your account with this merchant, you won't be prompted to log in.

Select one of your saved payment cards. Or, click + Add New Payment.
If adding a new payment method, enter the card details and click Save.
Click Confirm.
This subscription now bills to the payment method you selected. If you added a new card, your Bolt account will store this method for the next time you go through checkout.